| | |
| --- | --- |
| PowerPoint Presentation | GolfPsych Outing |
Workshops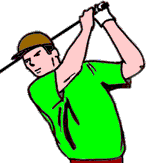 Lou Solarte is available to conduct four to eight-hour mental game workshops. All participants are given the Champion personality traits assessment in advance of the workshop. The workshops can be classroom only or a combination of classroom and on range/course instruction. The combination of classroom interspersed with on course is the most effective teaching arrangement. Rates depend on the length of program, size of group, location and expenses.
In a typical workshop, classroom only, we score and generate your GolfPsych Personality Profile or GolfPsych Report in advance. We will distribute these at the beginning of the workshop.
The initial portion of the workshop is a review of the Eight Champion Personality Traits and your scores. We will review several of the most important mental techniques: The Mental Routine, Regulating Thoughts, etc. We finish with open discussion of particular problems. Emphasis will be on involving you in all portions of the program. We also provide additional materials for monitoring your mental game performance, setting goals and planning your practice.
The ideal group size is 35 - 50 people.
GolfPsych Report is 48-50 pages long. The Report includes discussion of the Eight Champion Traits and our recommendations and techniques for strengthening your mental game based on your personality trait assessment. Personality Trait Assessment and GolfPsych Report are the first two steps we take with any of our Tour clients. Having the full report at the workshop will save taking a lot of notes as most of the techniques discussed are included.
The workshops are usually conducted at a country club or golf facility. Often they are sponsored by the head professional for his membership only. We will conduct one wherever there is sufficient interest.
PGA of America: A letter or certificate of completion is provided to each member. They can then submit those letters for continuing education credits, five hours credit for the Profile and workshop or seven hours credit for GolfPsych Report and the workshop.
Presentations


Lou Solarte is available to make presentations to your group. He has presented for the PGA of America, LPGA, Illinois PGA, Wisconsin PGA, Executive Womens Golf League, Charity tournaments, Corporate outings and at many public and private clubs. Lou has an excellent PowerPoint program complete with computer and projector that can be readily tailored to your group. Rates are based on the size of group, travel time required, plus expenses.